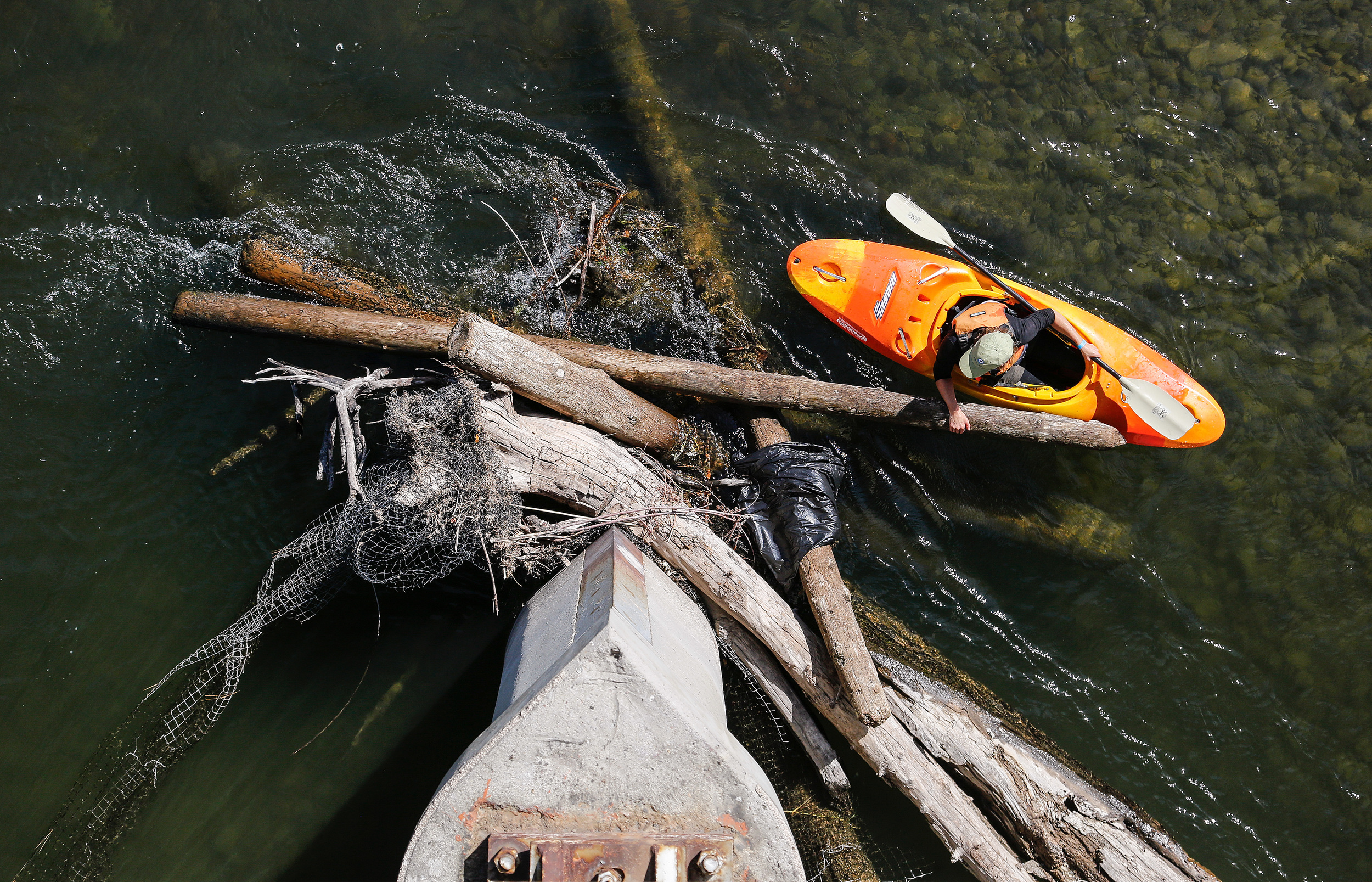 Ten Spoon Grape Harvest 1
Trench Training 1
Trench Training 2
Healing Waters 1
Healing Waters 2
Splash 1
Splash 2
Car Show 1
Car Show 2
Car Show 3
Off-Road 1
Off-Road 2
Amish Auction 1
Amish Auction 2
Fishing Without Barriers 2
Fishing Without Barriers 3
Fishing Without Barriers 4
Stream Monitoring 1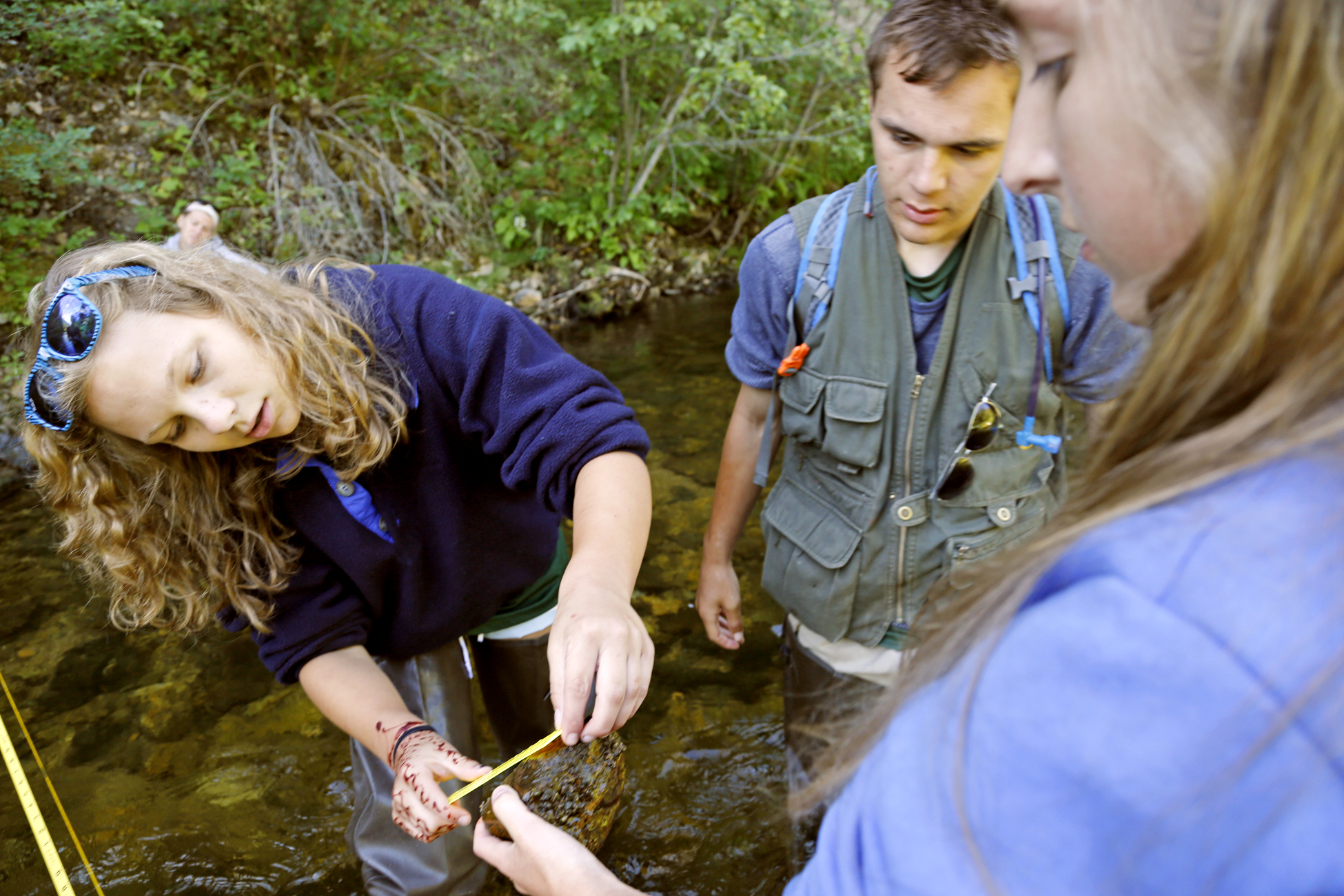 Stream Monitoring 2
Stream Monitoring 3
Stream Monitoring 4
Grateful Nation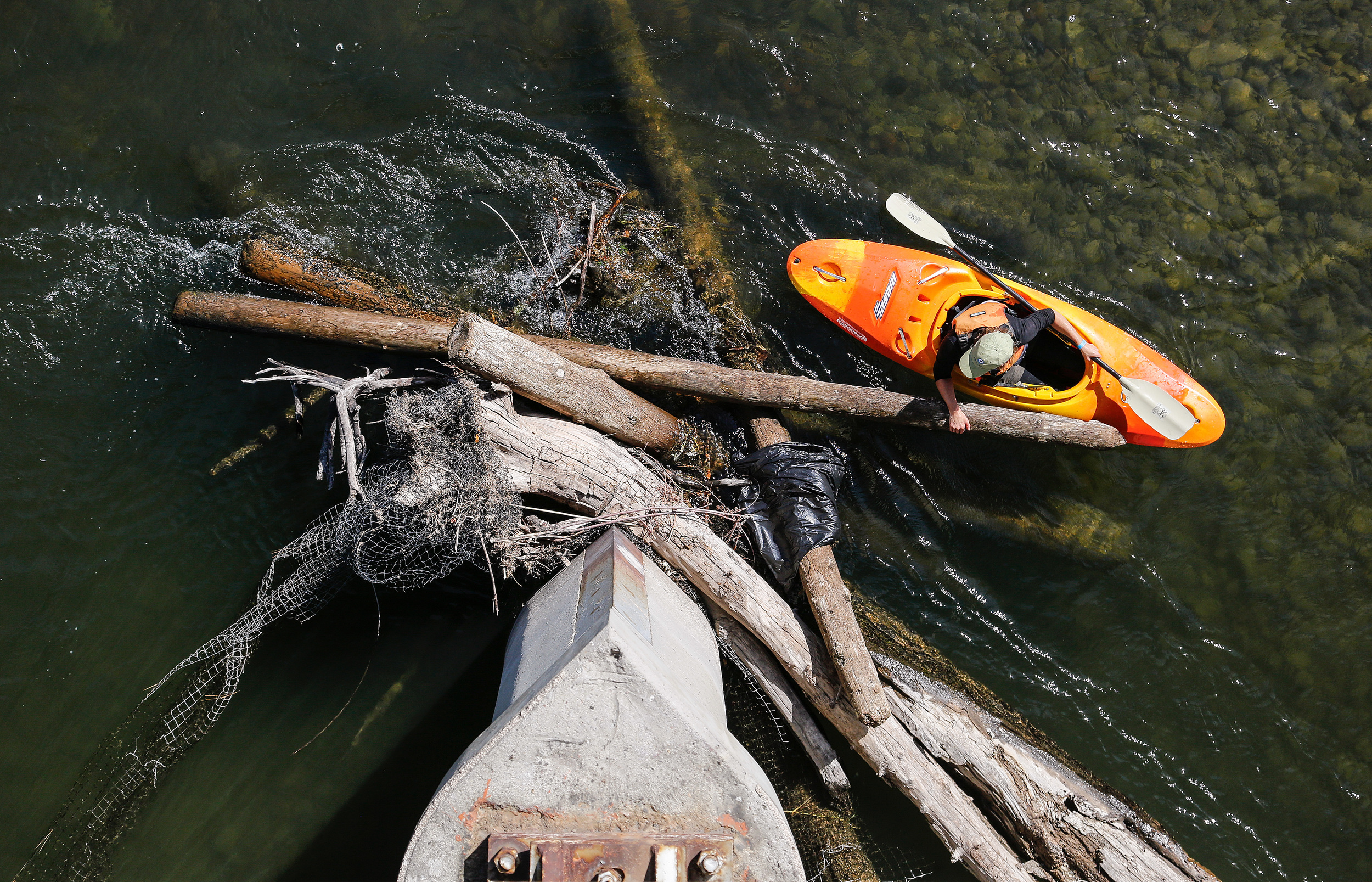 Janet Metcalf searches a log jam underneath the Higgins Street bridge for clues as part of the Brains & Brawn race in September. Metcalf and her team the Heads above Water went on to win second place in the recreational competition. The Brains and Brawn race, organised as a fund raiser for the Headwaters Dance Company, challenges competitors to not only get somewhere the fastest, but also solve clues about their next destination based on math and trivia problems.
Ten Spoon Grape Harvest 1
Philip Frandsen carries a tub of grapes as he works his way down a row of the Ten Spoon Winery vineyard in Missoula during the Grape Harvest in September. The grapes collected on Sunday are going to be used in Ten Spoon's Range Rider Red Wine.
Trench Training 1
Missoula city firefighters work to secure walls during trench extraction training Thursday afternoon at the Missoula County gravel pit at Shakespeare and Rodgers. Once a safe zone is established in the trench, they can extract the victim. According to firefighter Jeff Biggs, 70 percent of trench fatalities are not the initial victims but their rescuers, placing an emphasis on proper execution.
Trench Training 2
Philip Keating stands cautiously in the trench before shores are placed. Whenever working in the trench, firefighters never let their diaphragm pass below the lowest secured point, in this case the surface of the trench. During a typical summer, Biggs says that between 50 and 60 trenches are opened in Missoula. While most are closed without incident, the department needs to be ready.
Healing Waters 1
Pete Shinn guides Army veteran Shawn Graves on a fly-fishing trip down the Blackfoot River on Wednesday while participating in a Project Healing Waters float for disabled veterans sponsored by the Big Blackfoot Chapter of Trout Unlimited.
Healing Waters 2
Participants in the Project Healing Waters float trip down the Blackfoot prepare their boats for launch at the Harry Morgan fishing access before heading downstream Wednesday. Four veterans participated in Wednesday's float.
Splash 1
Exuberant students from Washington Middle School flooded Splash Montana on Friday morning during a field trip on the last day of school. According to Splash Montana aquatics supervisor Eric Seagrave, the school's being there was a great opportunity to "get everything fine-tuned and ready" for the official opening at 11:30 a.m. Saturday. Seagrave said that while there is always a possibility of opening the park in May, the cost of heating usually delays the opener until June.
Splash 2
Washington Elementary students on the Lazy River react to a waterfall Friday. Teacher Ray Somerset says the school has been holding the end-of-year field trip for many years as a reward for a great school year. Washington Middle School reported 250 students in attendance Friday.
Car Show 1
Jake Billington, 21, of Frenchtown polishes the wheels of his 1972 Chevrolet Chevelle before the Garden City River Rod Run on Friday in Caras Park. Billington says that when he got the Chevelle the interior had only seats and was a lot of bare metal.                                                    
Car Show 2
Paul Kruger of Columbia Falls fixes the hood latch on a 1928 Dodge five-window coupe on Friday in Caras Park. Kruger calls the car a "Rusto-Rod" having been extensively restored and customized with many modern parts, including a 1955 Desoto hemi engine.                                                    
Car Show 3
Bill Gaul, a criminal justice teacher at Hellgate High School, polishes the paint of his recently restored 1977 Pontiac Firebird. Gaul is the original owner of the Firebird, which he purchased brand-new while he was a student at the University of Montana. All the restoration work on the Firebird was done by former students of Gaul's, making it a unique project.
Off-Road 1
Off-Road 2
Amish Auction 1
Leroy Miller, Tim Schrock and Marty Miller work to align roof trussing while assembling a prefabricated cabin Tuesday. The 26-by-32-foot cabin is being auctioned during the Mission Valley Auction on Saturday to benefit the Amish Christian School.
Amish Auction 2
Schrock points to where he wants Marty to drill while Leroy looks on during construction of the southwest corner of the cabin on Tuesday.
Fishing Without Barriers 2
Jaidah Fuller hugs Capt. Tom Cobianco during her fishing trip on Flathead Lake Thursday. Cobianco commented that taking Jaidah out on his boat made the day for him.
Fishing Without Barriers 3
Opal Besaw and her father Ken Besaw reel in a fish during the casting contest, while her mother Amy Besaw looks on during the Fishing Without Barriers event on Thursday. Opal claimed that she wanted to do the casting contest because she did not catch any fish, but her luck quickly changed. 
Fishing Without Barriers 4
Dustin Bagley, owner of the Bagley Guide Service, sets a line during the Fishing Without Barriers event on Flathead Lake on Thursday. Bagley loves working the event because it "gives people a chance to get out who normally don't fish." 
Stream Monitoring 1
Members of the Montana Conservation Corps make their way down Lolo Creek while looking for a suitable site measure river flow and health on Tuesday. The Group which is partnered with the Watershed Education Network also measured macro invertebrate levels and looked at pebble sizes in the Creek.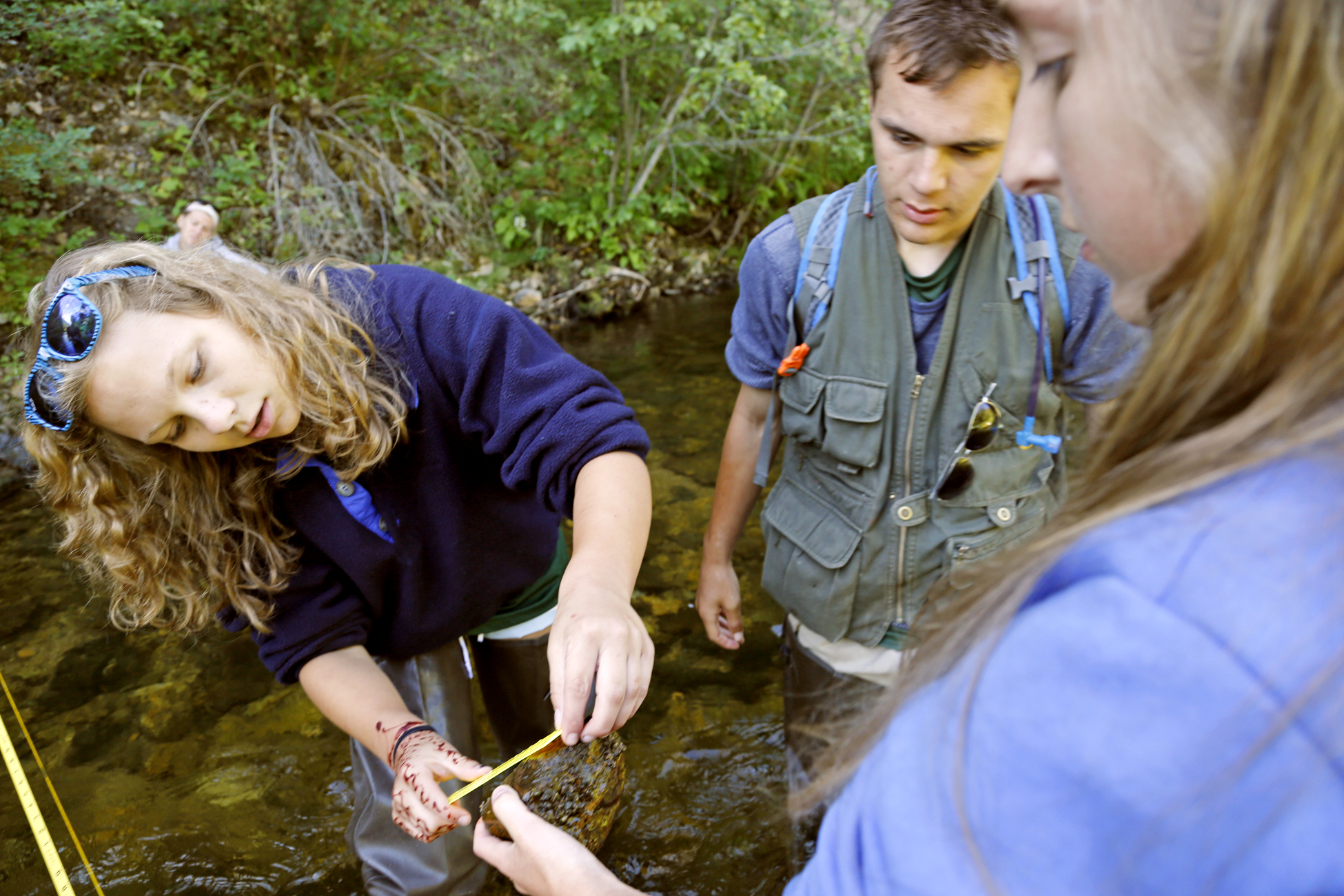 Stream Monitoring 2
Mackenzie Mentel measures a rock held by Ticha Padgett-Steward as Joe Wolf looks on while conducting a pebble survey of Lolo Creek on Tuesday. The goal of the pebble survey is to see the variety of rock sizes in the creek, with larger diversity signifying a healthier watershed.
Stream Monitoring 3
Dominique Mathews sorts a stonefly nymph from a tub of aquatic macro invertebrates collected in Lolo Creek on Tuesday. The bugs which are sensitive to aquatic pollution serve as another way of measuring watershed health. The aquatic bugs are collected by kicking up the creek bottom into catch nets. After being surveyed the bugs are returned to the river.
Stream Monitoring 4
Jackson Bale unloads a catch net full of bugs from Lolo Creek into a sorting tub during a Montana Conservation Corps creek survey on Tuesday.
Grateful Nation
Senator Max Baucus speaks with a member of Boy Scout Troop 1911 after the unveiling of the Grateful Nation Memorial unveiling. Baucus held the unveiling very closely as his nephew Phillip Baucus was killed while serving in Iraq in 2005.
1
2
3
4
5
6
7
8
9
10
11
12
13
14
15
16
17
18
19
20
21
22
23
24
·
·
·
·
·
·
·
·
·
·
·
·
·
·
·
·
·
·
·
·
·
·
·
·